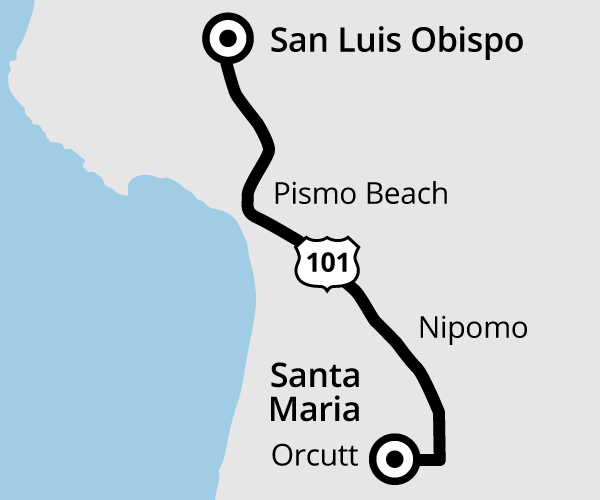   View detailed route map

---
Overview
New Morning Schedule as of Monday May 21 2017
New times and arrives earlier to Cal Poly for commuters. There will now be one Southbound and one Northbound trip daily.
Route 10 Orcutt Express is a Monday–Friday express route with stops that include Cal Poly, SLO Government Center, the Airport business park, the Pismo Outlets and Santa Maria.
---
Southbound Schedule Hacia al Sur
San Luis Obispo
Pismo Beach
Santa Maria
Orcutt
Cal Poly Library
SLO Government Center
Broad @ Aero (SLO Airport)
Pismo Premium Outlets
Transit Center
Hagerman Softball Complex-Orcutt
NEW SCHEDULE AS OF MAY 21st
4:08 pm
4:27 pm
4:38 pm
4:53 pm
5:16 pm
5:31 pm
Northbound Schedule Rumbo al Norte
Orcutt
Santa Maria
Halcyon Park and Ride
Pismo Beach
San Luis Obispo
Hagerman Softball Complex - Orcutt
Transit Center
Pismo Premium Outlets
Broad @ Aero (SLO Airport)
SLO Government Center
Cal Poly Library
Monday–Friday
NEW SCHEDULE AS OF May 21. MORNING RUN ONLY
5:50 am
6:05 am
6:34 am
6:40 am
no longer serving this stop in the morning. PM only
6:59 am
7:12 am
* Connects with the Santa Barbara Clean Air Express