Bus Operators: $2,000 hiring bonus
Are you looking for a great new job? RTA and South County Transit are hiring drivers for our buses, vans and trolley! No experience is necessary because we can train anyone with a California driver's license to drive the bus. We offer paid training and full-time benefit packages. We're looking for friendly people who like the idea of helping their community get to where they need to go. Starting hiring packages include:
$22.36/hour pay
100% health insurance coverage including vision and dental
Full and part time jobs
Please read the full job description and apply on the SLO County Jobs website.  Note: you will be directed to the County of San Luis Obispo's Human Resources Department to apply.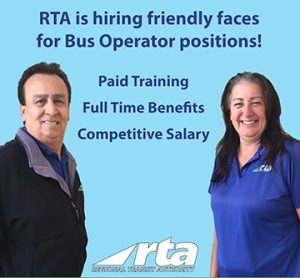 Why Work For RTA-written by RTA employees
We have a beautiful new facility! Drivers are appreciated and treated better at RTA  than most other Transit Companies. RTA is a close knit "family" atmosphere. Pay and benefits are fair and opportunity for training and advancement are open to all. RTA is a comfortable place to work. Opinions of drivers, and all employees matter and are taken in consideration. Our maintenance crew are top notch and they care about the drivers and equipment safety, they are willing to talk with the drivers and address their concerns.  That does not happen at many transit companies. The buses, vans and support vehicles are beautiful and well maintained. Supervisors and management care about our drivers and strive to keep them safe and reasonably comfortable at work. Management has an open door policy and they are always willing to consider all questions, concerns and suggestions. Safety awards are generous.
We have some of the best scenery anywhere on our routes. We have an amazing professional training team training is within and anyone can get a CDL and paid training here, and testing is within as well.  (That's Big!) Uniforms are paid for so we do not have to worry about what to wear each day.
Routes and shifts are flexible and we have a bid system.  It pays to stay! We have full time, part time positions available. This is a great opportunity for young people looking to have a CDL and retired people looking for extra income.
The RTA is committed to creating a diverse environment and is proud to be an equal opportunity employer. All qualified applicants will receive consideration for employment without regard to color, national origin, sex (including gender identify, sexual orientation, and pregnancy), age, genetic information, disability, height, weight, marital status, veteran status, disability, or protected class as defined by federal and state law in our relationship with applicants for employment, employees of the department/agency, and the public. The RTA does not tolerate discrimination or harassment based on any of these characteristics.  The RTA is committed to achieving a diverse workforce through application of its equal employment opportunity plan in all aspects of employment including recruitment, hiring, promotions, transfers, discipline, terminations, wage and salary administration, benefits, and training. The RTA Equal Employment Opportunity (EEO) Plan is available online here.  If you have a disability or special need that requires reasonable accommodation, please contact the RTA directly at (805) 781-4472.
EEO Contact information:
Tania Arnold, EEO Officer
Deputy Director/Chief Financial Officer
San Luis Obispo Regional Transit Authority
253 Elks Lane
San Luis Obispo, California 93401
Phone: (805) 781-4397
Fax: (805) 781-1291
EEOprogram@slorta.org