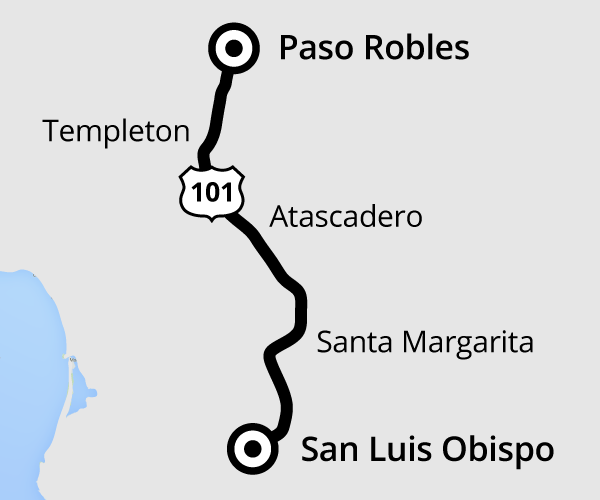   View detailed route map

---
JULY 1, 2021 RTA and SoCo Transit will return to full fare pricing!
Starting Sunday June 28, we will return to hourly service, and have one express trip South at 6:35am. Face coverings are required. Fares are 50¢ regular and 25¢ discounted.
Please call 805-541-2228 if planning to take the shuttle between San Miguel and Paso Robles an hour before boarding or asap.
Route 9 travels between the San Luis Obispo downtown Government Center, through Cal Poly, and then up through the North County cities of Santa Margarita, Atascadero, Templeton, Paso Robles and San Miguel
---
Southbound Schedule Hacia al Sur
Express Bus
San Miguel
Paso Robles
Templeton
Atascadero
Santa Margarita
San Luis Obispo
Mission at 14th
Cuesta College North
Pine at 8th
Target Shopping Center
Twin Cities Hospital
Las Tablas Park & Ride
Atascadero Transit Center
Viejo Camino at Bocina
ECR at Encina
Cal Poly Library
Gov't Center (Osos at Palm)

Monday–Friday

5:47
-
6:01
6:10
6:16
6:18
6:33
6:45
6:54
7:11
7:24
EXPRESS
-
6:35
-
-
6:43
6:53
-
-
7:18
7:27
-
-
7:01
7:10
7:16
7:18
7:33
7:45
7:54
8:11
8:24
-
8:00
8:10
8:19
8:25
8:27
8:42
8:54
9:03
-
9:23
-
9:00
9:10
9:19
9:25
9:27
9:42
9:54
10:03
-
10:23
-
10:00
10:10
10:19
10:25
10:27
10:42
10:54
11:03
-
11:23
-
11:00
11:10
11:19
11:25
11:27
11:42
11:54
12:03 p
-
12:23 p
11:56
-
12:10 p
12:19 p
12:25 p
12:27 p
12:42 p
12:54 p
1:03 p
-
1:23 p
12:00 p
12:10
-
-
-
-
-
-
-
-
-
1:00p
1:10p
1:19p
1:25p
1:27p
1:42p
1:54p
2:03p
-
2:23p
-
2:00p
2:10p
2:19p
2:25p
2:27p
2:42p
2:54p
3:03p
-
3:23p
-
-
2:57p
3:06p
3:12p
3:14p
3:29p
3:41p
3:50p
-
4:10p
-
3:00p
3:10p
3:19p
3:25p
3:27p
3:42p
3:54p
4:03p
-
4:23p
-
4:00p
4:10p
4:19p
4:25p
4:27p
4:42p
4:54p
5:03p
-
5:23p
-
5:00p
5:10p
5:19p
5:25p
5:27p
5:42p
5:54p
6:03p
-
6:23p
-
6:00p
6:10p
6:19p
6:25p
6:27p
6:42p
6:54p
7:03p
-
7:23p
6:28p
6:42
Shuttle from San Miguel to Paso Transit Center*
-
-
-
-
7:00p
7:10p
7:19p
7:25p
7:27p
7:42p
7:54p
8:03p
8:23p

Saturday

6:56
-
7:10
7:19
7:25
7:27
7:42
7:54
8:03
-
8:23
-
-
10:10
10:19
10:25
10:27
10:42
10:54
11:03
-
11:23
11:56
-
12:10p
12:19p
12:25p
12:27p
12:42p
12:54p
1:03p
-
1:23p
-
-
3:10p
3:19p
3:25p
3:27p
3:42p
3:54p
4:03p
-
4:23p
5:56p
-
6:10p
6:19p
6:25p
6:27p
6:42p
6:54p
7:03p
-
7:23p

Sunday

7:56
-
8:10
8:19
8:25
8:27
8:42
8:54
9:03
-
9:23
11:56
-
12:10p
12:19p
12:25p
12:27p
12:42p
12:54p
1:03p
-
1:23p
3:56p
-
4:10p
4:19p
4:25p
4:27p
4:42p
4:54p
5:03p
-
5:23p
Northbound Schedule Rumbo al Norte
Express Bus
San Luis Obispo
Santa Margarita
Atascadero
Templeton
Paso Robles
San Miguel
Cal Poly Library
Gov't Center (Osos at Palm)
Cal Poly Library
ECR at Encina
Viejo Camino at Bocina
Atascadero Transit Center
Twin Cities Hospital
Las Tablas Park & Ride
Target Shopping Center
Pine at 8th
Cuesta College North
Mission at 14th

Monday–Friday

-
6:33
-
6:47
6:55
7:08
7:23
7:26
7:31
7:40
7:53
-
-
7:33
-
7:47
7:55
8:08
8:23
8:26
8:31
8:40
8:53
-
-
8:33
-
8:47
8:55
9:08
9:23
9:26
9:31
9:40
9:53
-
-
9:33
-
9:47
9:55
10:08
10:23
10:26
10:31
10:40
10:53
-
-
11:40
-
11:54
10:33
-
10:47
10:55
11:08
11:23
11:26
11:31
11:40
11:53
-
-
11:33
-
11:47
11:55
12:08p
12:23p
12:26p
12:31p
12:40p
12:53p
-
-
12:33p
-
12:47p
12:55p
1:08p
1:23p
1:26p
1:31p
1:40p
1:53p
-
-
1:33p
-
1:47p
1:55p
2:08p
2:23p
2:26p
2:31p
2:40p
2:53p
-
2:21p
2:33p
-
2:47p
2:55p
3:08p
3:23p
3:26
3:31p
3:40p
3:53p
-
3:21p
3:33p
-
3:47p
3:55p
4:08p
4:23p
4:26p
4:31p
4:40p
4:53p
-
4:21p
4:33p
-
4:47p
4:55p
5:08p
5:23p
5:26p
5:31p
5:40p
5:53p
-
Shuttle from Paso Transit Center to San Miguel
6:12p
-
6:26p
5:21p
5:33p
-
5:47p
5:55p
6:08p
6:23p
6:26p
6:31p
6:40p
6:53p
-
6:21p
6:33p
-
6:47p
6:55p
7:08p
7:23p
7:26p
7:31p
7:40p
-
-
-
7:33p
-
7:47p
7:55p
8:08p
8:23p
8:26p
8:31p
8:40p
-
-
-
8:33p
8:40p
8:56p
9:04p
9:15p
9:30p
9:33p
9:38p
9:47
-
-

Saturday

-
8:33
-
8:47
8:55
9:08
9:23
9:26
9:31
9:40
-
-
-
11:33
-
11:47
11:55
12:08p
12:23p
12:26p
12:31p
12:40p
-
12:54p
-
1:33p
-
1:47p
1:55p
2:08p
2:23p
2:26p
2:31p
2:40p
-
-
-
4:33p
-
4:47p
4:55p
5:08p
5:23p
5:26p
5:31p
5:40p
-
5:54p
-
7:33p
7:41p
7:57p
8:07p
8:17p
8:31p
8:35p
8:40p
8:49p
-
9:03p

Sunday

-
9:33
-
9:47
9:55
10:08
10:23
10:26
10:31
10:40
-
10:54
-
1:33p
-
1:47p
1:55p
2:08p
2:23p
2:26p
2:31p
2:40p
-
2:54p
-
5:33p
5:41p
5:57p
6:07p
6:17p
6:31p
6:35p
6:40p
6:49p
-
7:03p