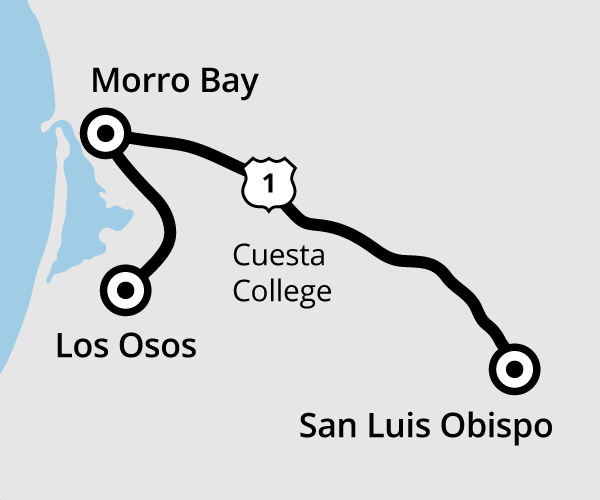   View detailed route map

March 19, 2023: New morning express trip from Los Osos/Morro Bay. Includes Cal Poly stop. Schedule now shows this new schedule Download the current schedule here. 
Route 12 is fare free to all Cuesta College students who show a school ID.
The Cuesta College San Luis Obispo campus is served by Route 12 and Route 14. Route 14 is not running at this time.
Schedule Hacia
San Luis Obispo
Morro Bay
Los Osos Loop
Morro Bay
San Luis Obispo
Gov't Center
Cal Poly Library
Cuesta College
Morro Bay Park
Santa Ysabel at 15th
Pine at LOVR
Santa Ysabel at 15th
Morro Bay Park
Cuesta College
Cal Poly Library
Gov't Center
Call for pick up Sat & Sun

Connect To and From (RTA 15)

Call for pick up Sat & Sun

Monday–Friday

-
-
-
-
6:10
6:19
6:30

6:42

7:51
7:03
7:12
6:33
-
6:46

6:59

7:07
7:16
7:27
7:39
7:50
-
8:06
7:33
-
7:46
7:59
8:07
8:16
8:27

8:39

8:50
-
9:06
8:33
-
8:46

8:59

9:07
9:16
9:27
9:39
9:50
-
10:06
9:33
-
9:46
9:59
10:07
10:16
10:27
10:39
10:50
-
11:06
10:33
-
10:46
10:59
11:07
11:16
11:27

11:39

11:50
-
12:06p
11:33
-
11:46

11:59

12:07p
12:16p
12:27p
12:39p
12:50p
-
1:06p
12:33p
-
12:46p
12:59p
1:07p
1:16p
1:27p
1:39p
1:50p
-
2:06p
1:33p
-
1:46p
1:59p
2:07p
2:16p
2:27p

2:39p

2:50p
-
3:06p
2:33p
-
2:46p

2:59p

3:07p
3:16p
3:27p
3:39p
3:50p
-
4:06p
3:33p
-
3:46p
3:59p
4:07p
4:16p
4:27p

4:39p

4:50p
-
5:06p
4:33p
-
4:46p
4:59p
5:07p
5:16p
5:27p
5:38p
5:50p
-
6:06p
5:33p
-
5:46p

5:59p

6:07p
6:16
6:27p
6:39p
6:50p
-
7:06p
6:33p
-
6:46p
6:59p
7:07p
7:16
7:27p
7:39p
7:50p
-
8:06p
7:33p
-
7:46p
7:59p
8:07p
8:16p
8:27p
8:39p
8:50p
-
9:06p
8:33p
-
8:46p
8:59p
9:07p
9:16p
9:27p
9:39p
9:50p
-
10:06p

Saturday

-
-
-
-
7:30
7:39
7:50

8:00

Call
-
8:25
8:33
-
Call for pick up

9:00

9:08
9:17
9:28 (end)
-
-
-
-
-
-
-
-
10:30
10:39
10:50

11:00

Call
-
11:25
11:33
-
Call

12:00p

12:08p
12:17p
12:28p (end)
-
-
-
-
-
-
-
-
12:30p
12:32p
12:50p

1:00p

Call
-
1:25p
1:33p
-
Call

2:00p

2:08p
2:17p
2:28p (end)
-
-
-
-
-
-
-
-
3:30p
3:39p
3:50p

4:00p

Call
-
4:25p
4:33p
-
Call

5:00p

5:08p
5:17p
5:28p (end)
-
-
-
-
-
-
-
-
6:30p
6:39p
6:50p

7:00p

Call
-
7:25p
7:33p
-
Call

8:00p

8:08p
8:17p
8:28p (end)
-
-
-
-

Sunday

-
-
-
-
8:30
8:39
8:50

9:00

Call
-
9:25
9:33
-
Call

10:00

10:08
10:17
10:28
10:38
Call
-
11:00
11:50
-
Call
12:17
12:25
12:34p
12:45p

12:55p

Call
-
1:25p
1:33p
-
Call

2:00p

2:08p
2:17p
2:28p
2:38p
Call
-
3:00p
3:50
-
Call
4:17
4:25
4:34p
4:45p

4:55p

Call
-
5:25p
5:33p
-
Call

6:00p

6:08p
6:17p
6:28p (end)
-
-
-
-