This is interesting. When you put a building where water may run off, you can install a "bio-swale" . This area will absorb excess runoff and keep water from moving onto the nearby roads. And its so much nicer looking than just a giant drain.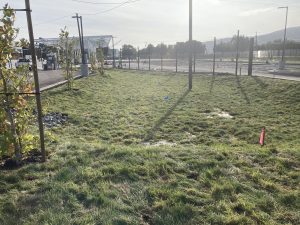 Aug/Sept: New cement and new doors in place. This is the future employee entry and we are looking forward to walking through soon!
July: With every month our building is getting more exciting to look at. We have walls, we have light tubes and soon we'll have office spaces and we will pave Elks Road out front.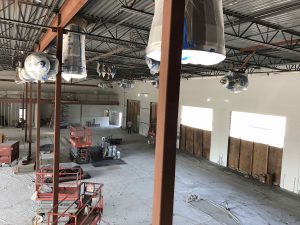 Here is June's update photo and what difference one month can make! The inside is starting to look like office spaces with walls and doors and windows.
The outside is looking good! The building is right on pace, inside and out. May 2021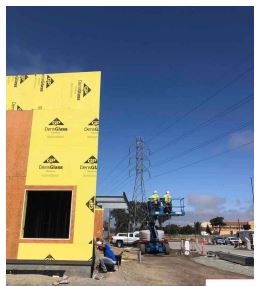 Interior walls are going in now. Staff took a tour recently to see progress and we can now start to see the layout of the inside of the building. April 2021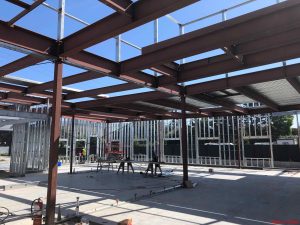 Here is a shot from the new 'inside' the building. You can get a feel for how much cement went down. Pretty soon we're going to have a roof over our heads! March 2021
Now our walls are are turning into a building. Lots of progress but a little rain this month. Feb 2021
Look! Vertical walls! Things are looking up! January 2021
The cement pad is installed. Over 13K square feet of cement! December 2020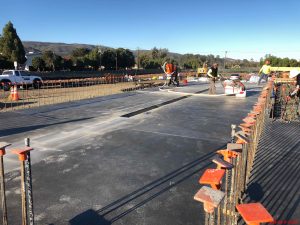 Lots of digging to do! Prepping the ground and installing pipes. November 2020

The beginning! Here is our lot in all its glory. We will track its progress as we go along.

The Building
The new facility is along the Highway 101 at the northbound Prado Street exit. It will be 28,650 square feet and will house company operations, administration, dispatch and vehicle maintenance. This includes bus parking for much of the RTA fleet. The goal is to complete construction by February 2022. The construction will be done by San Luis Obispo based Specialty Construction. The new site will also allow for future inclusion of battery electric bus chargers and a solar canopy. You can watch a fly-over video of the entire facility concept here.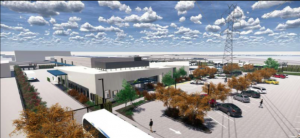 The Site
The parcel was purchased along with Community Action Partnership of SLO (CAPSLO) for their new homeless shelter and services on Prado Lane. The property is about 6.5 acers of land, and in time, we will be neighbors with the new overpass for Prado Road to the 101. Our current site is only 2.7 acres and can only hold a fraction of the RTA vehicles. The new on-site parking will accommodate approximately 73 public transit buses and vans as well as 84 employee and visitor vehicles, respectively, for a total of 157 on-site parking spaces
Funding
This project is expected to cost $31 million overall. $8 million will be paid for in grants, $25 million will be through loans. RTA is the very first recipient of a TIFIA Federal loan through the USDOT Build America Bureau which covers $16 million and the rest will be funded through State grants and private financing.