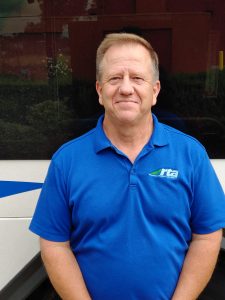 Rick Webb: Employee of the Quarter: Q1, 2019
The Mission of RTA and South County Transit is to provide safe, reliable and efficient transportation services that improve and enhance the quality of life for the citizens and visitors of San Luis Obispo County. Our values include commitment to serve, leadership, teamwork, integrity, and human development. Each quarter, the RTA and SoCo Transit staff can nominate another coworker as Employee of the Quarter. Employees of the Quarter are recognized at RTA or SoCo Transit Board Meetings and quarterly barbecues, and they receive a $200 check.
Do you have a driver or RTA/SoCo Transit employee that you'd like to nominate? Briefly identify how the candidate meets the following criteria by completing the form below. The more detail you provide in your nomination, the better it can be evaluated.
Nomination Form